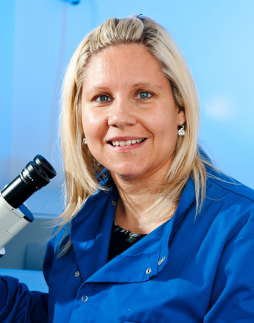 Dr Andriana Margariti.
Senior Lecturer
Queen's university Belfast

United Kingdom
Biography
Dr Margariti has developed significant expertise in stem cell biology, with particular emphasis on cell reprogramming, chromatin remodelling, cell signalling and endothelial cell biology. She had received her postdoctoral training in the Cardiovascular Division of the BHF Centre of Excellence at King's College London (KCL). Dr Margariti's laboratory has invested on their robust expertise on cell reprogramming and induced pluripotent stem (iPS) cell technologies and they have developed patient- specific cells lines from diabetic donors (patient specific iPS cell lines in a petri dish) based on fast and highly efficient approaches. Dr Margariti has been promoted to Senior Lecturer in 2017 and she is leading the iPS cells facilities in QUB, where iPS cells are generated and differentiated towards vascular cells (including ECs, Smooth Muscle Cells and Pericytes) and human blood vessel organoids, Cardiomyocyes, Neurons, Retina pigment epithelial cells and many other cell types.
Research Interest
cell signalling and endothelial cell biology